Are you using the most popular hashtags?
Wish you had a hashtag generator?
Can you get more followers and likes by using the top hashtags?
In this article, you are going to find out.
We're going to be talking about hashtag research and also tools for your hashtags as well to help you continue to grow with your accounts, get more engagement, get more followers, and probably monetize your Instagram accounts more than you're already doing right now.
We'll start off talking about what kind of hashtags you can and should be using, and how to do the research. If you've looked for top Instagram hashtags you'll know there's a lot of information about how many hashtags you should use in your posts and what kind of hashtags. Unfortunately some of the information out there is not valid anymore in 2019, so I'll go over the main sort of tips and strategies that you need to stick with every single time that you post.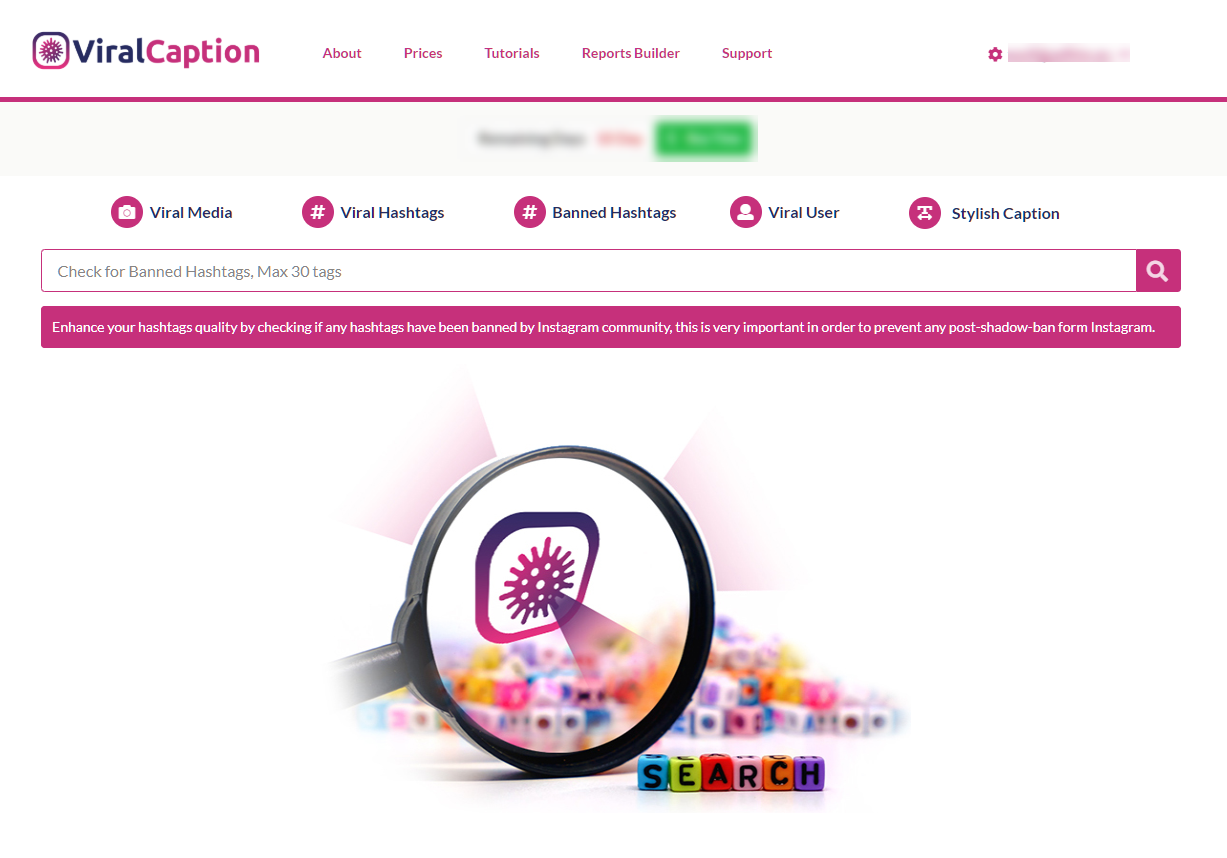 Vary your hashtags
Hashtags rule number one is that you do not want to post the same hashtags every single post! You know you might have the same 15 hashtags that you do time and time and time again — this is going to end up bad for you. Do not do this because Instagram will notice this and shadow-ban you because they assume when you're using the same one you're trying to spam the hashtags.
You need to mix it up, keep it as natural as possible and in-line with your content. You can use a few of the same ones every now and then again — the solid ones that worked for you, but mix in a few that you don't always use.
Instagram hashtags limit
Instagram allows you to use up to 30 hashtags. While there are people proposing to always use all 30, our tests show that this is giving you worse results than limiting to relevant ones only. Always using all 30 screams "spam". Experts dispute whether 7 is the optimal number, 10 or 15. You will need to test, it might vary over time as Instagram's algorithm changes, and it might even vary from niche to niche. And if you find 20 good hashtags that work for you, don't limit yourself artificially. But definitely don't overdo them.
Stack your hashtags
What you want to do is a layered approach: you know you can get hashtags that have like anywhere from a few hundred to a few thousand, all the way up to millions and millions of posts. In a layered approach you would use about five smaller hashtags that are showing between 10 and 30,000 posts, and you want to find another five that are in that 100,000 to 200,000 range and then you want to find another five that are in 300,000 to 500,000 range.
You don't want to go for ones that are over half a million, unless of course you already have a big account that you know you're going to rank for those large hashtags anyway, because you have a lot of organic natural engagement anytime you post. If you're a small account use smaller hashtags because they're really going to help you grow because you're not going to have to stand out from millions of other posts and get the top ranked positions within those smaller hashtags. The idea is to scale up as your followers grow and you will better know which size of hashtag can you stand out in, then start stepping up and go for larger hashtag.
Hashtags to fit your content
The other key rule is of course to use hashtags that are relevant to your content. Image recognition technology has improved massively, as you surely know when you're regularly using "Search by image" on Google's image search.
That means Instagram knows what's on the photos you post, more or less. If your hashtags fit with that, you are going to get a better placement. And if you regularly post in the same niche, say sports or pets or travel, you are going to be "labelled" by Instagram, and consistency pays off.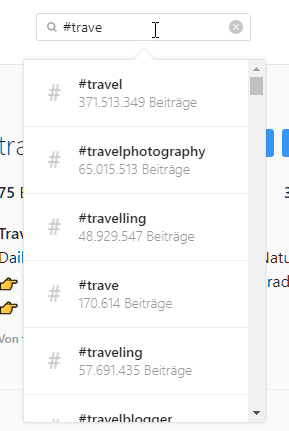 Tools to find the best hashtags
Before we dive into the tools, a word of warning. There are many hashtag tools around that work for Twitter only, or have been created with Twitter in mind and are not optimized for Instagram. Famous sites like hashtagify.me or hashtags.org and some hashtag tools built into social media suites like
The number one (and totally free) tool to find the best hashtags on Instagram is of course Instagram itself. When you start typing a hashtag (starting with "#") the system will show you hashtags that are similar and related, with the number of posts underneath. That is helpful, but doesn't get you very far. In the given example #travel, it would show you many words starting with "travel" (and some spelling errors), but not #hotel, #trip, #cruise, #flight etc.
As limited as it is, with a bit of upfront work to brainstorm starter words, you can easily generate 100s of hashtags that way. And remember, you want to sort them by number of posts to pick the right sizes for your account – see stacked hashtags above.
Get the right metrics
Another tool I used to use frequently is keywordtools.io. Of the many keyword tools that are used in SEO, this is the only one (to my knowledge), that offers hashtag search for Instagram and Twitter, too. It will show you a long list of lexically similar keywords together with the number of posts for each one. Unfortunately the minimal subscription to see that data is "Pro Basic", currently priced at 68$ per month, which is absurdly expensive if you use it for only Instagram.
The problem: post count is not enough to select good hashtags. There are some hashtags that have a very high post count (which is good), but new photos are added every other second, which means whatever you post there will disappear under thousands of other posts rather quickly.
For that reason Hashatory shows an additional metric they call "DAPC", the daily average post count. If you find hashtags that are fairly large, but have a smaller than average DAPC, you know your post  will be seen on that hashtag page and remain to be seen for a longer time.
Hashatory starts at only $9.99 per month for unlimited searches. Recommended.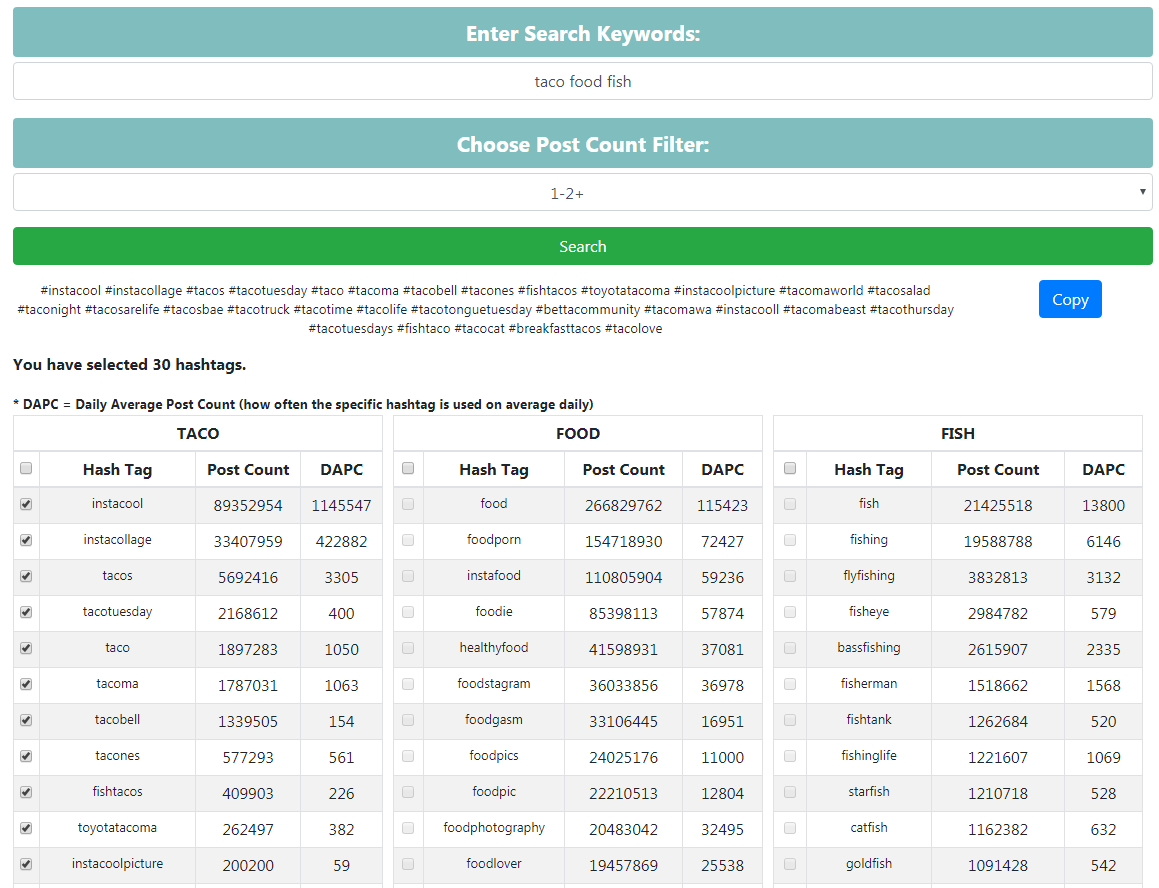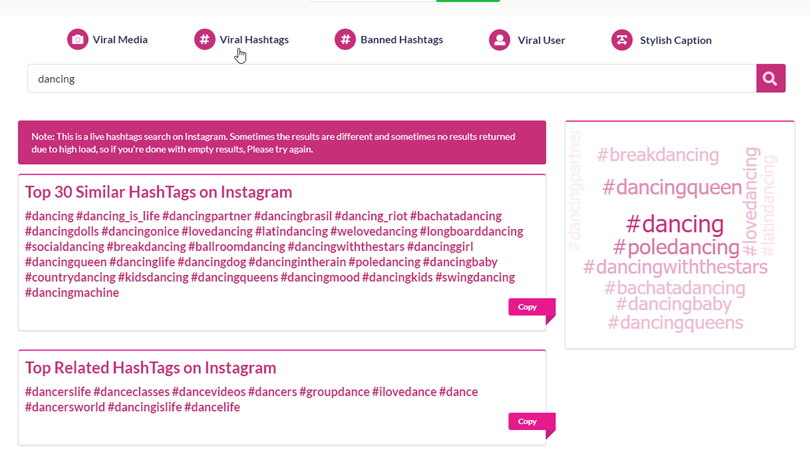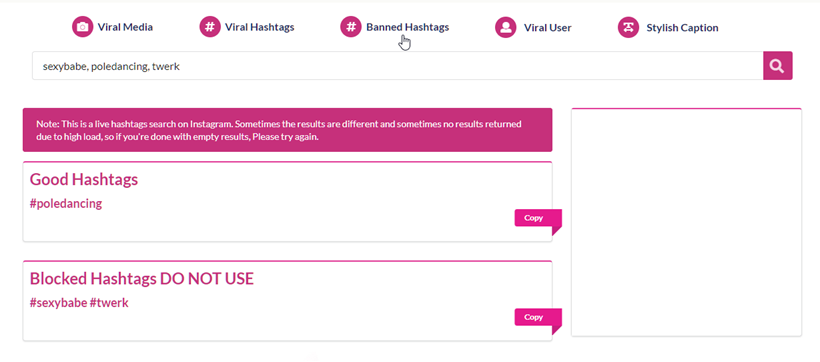 Not just hashtags to grow your Instagram account
The tool I use most nowadays is
ViralCaption
. Like Hashatory it shows you related hashtags, DAPC data, and lets you one-click-copy hashtags into your Instagram posting. At $29.99 per month it is a bit more expensive, but it offers so much more:
Firstly, banned hashtags. Instagram from time to time bans hashtags that they find are being abused and spammed. If you post using some of these banned hashtags, your post will suffer from low visibility and reach, and if you do that more than once your account might get tainted. Therefore
ViralCaption
has a banned hashtag search.
You can also look for viral users, find accounts in your niche that do exceptionally well, so you can analyse and maybe copy some of their strategies. And if you ever wondered how some accounts write upside down, or in ornament type faces, there's a "stylish caption" tool for that.
But the tool that I find most helpful is the "Viral Media" tool. You enter a hashtag or a user name and the tool will show you the posts that have attracted the highest engagement (likes and/or comments). This gives you a very rapid overview of what type of posts work well for a given hashtag, and allows you to see whether that hashtag is relevant for your content. It also allows you to plan which content to post in order to maximise your engagement.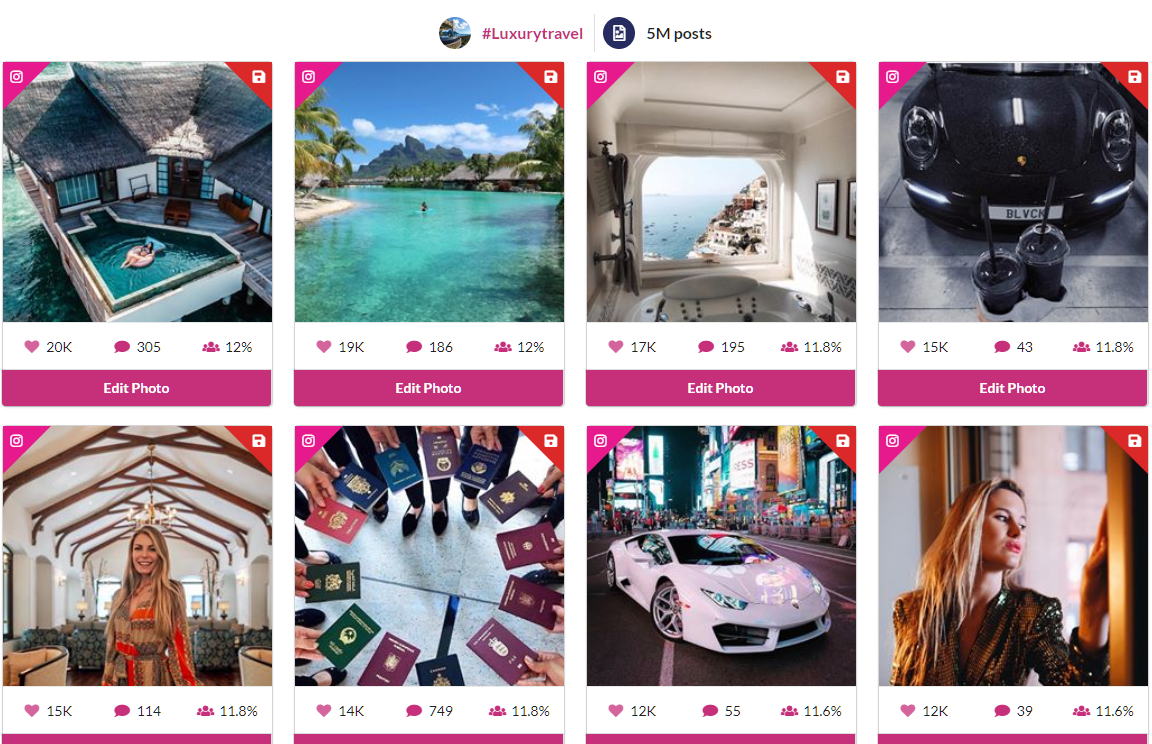 Finally: The simple formula to achieve more followers and more engagement on Instagram
So there you have it. If you want to achieve a maximum number of new followers, high engagement, you need to plan your content, choose relevant hashtags at just the right size and with the right DAPC, and keep working at it consistently. The tools are all there!
Good luck!